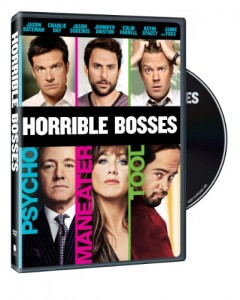 Originally our DVD collection focused on feature films and television series, with an emphasis on law, lawyers, public policy, and government.  However we've also kept current with popular movies and television shows, and with the upcoming release of the comedy Horrible Bosses 2, we figured it was time to highlight the the original 2011 movie starring Jason Bateman, Jennifer Aniston, Jason Sudeikis and Charlie Day.
From the summary:
"For Nick, Kurt, and Dale, the only thing that would make the daily grind more tolerable would be to grind their intolerable bosses into dust. Quitting is not an option, so, with the benefit of a few too many drinks and some dubious advice from a hustling ex-con, the three friends devise a convoluted and seemingly foolproof plan to rid themselves of their respective employers, permanently. There's only one problem: even the best laid plans are only as foolproof as the brains behind them."
If you're interested in this or any of our other DVD titles take a look at our guide where you can see our current titles and link to the catalog record to see if the DVD is available or checked out.  You can also browse the collection in person in the study area directly outside the Law Library's Reading Room.
Do you have a suggestion for the collection? Contact Nina Scholtz, Digital Resources Librarian.