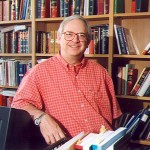 As the Cornell Law School mourns the death of Professor Theodore Eisenberg, the Law Library is taking a moment to feature his groundbreaking legal scholarship.
A pioneer in the field of empirical legal studies, the uniqueness of his scholarship was equally matched by his productivity, authoring or coauthoring over 125 scholarly articles and writing or contributing to over 20 books. Additionally he founded the Journal of Empirical Legal Studies in 2004, which is consistently regarded as one of the most influential publications in the field.
Many of Professor Eisenberg's works are currently featured on our Scholarship@Cornell Law repository, where his use of statistical methodology to gain new insights into punitive damages, capital juries and myriad of other diverse topics is on full display and serves as a tribute to the legacy of one of Cornell Law's true intellectual and creative forces.