While our Popular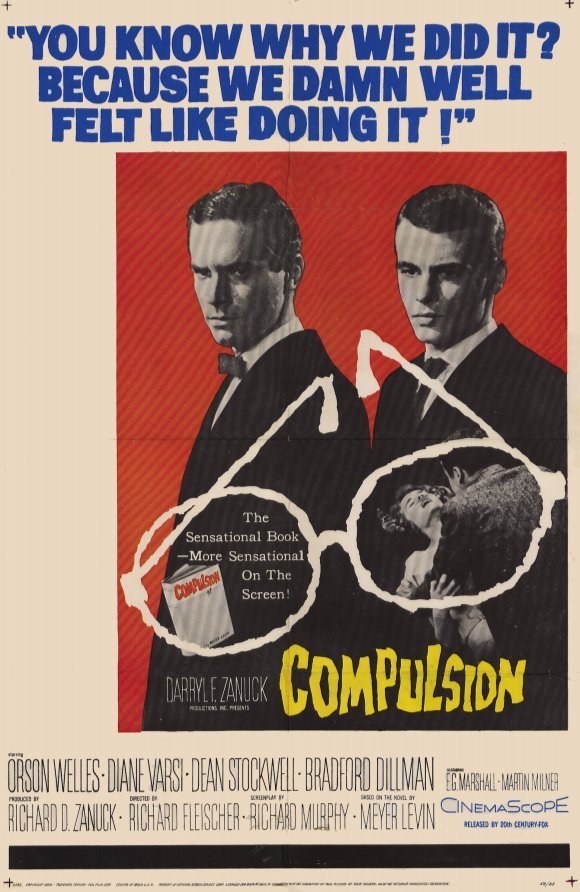 DVD Collection features many contemporary titles such as Game of Thrones and House of Cards, we've also made it a point to feature classic titles that emphasize law, lawyers, public policy, and government. One of those includes the under-appreciated 1959 film Compulsion starring Orson Welles, Diane Varsi and a young Dean Stockwell.
From the summary:
"Chicago, 1924. Two young men, one bossy and intimidating, the other sensitive and introverted, thought their superior intellect would enable them to pull off "The perfect crime." The result is a sensational case with defense attorney Jonathan Wilk putting capital punishment itself on trial."
Cornell faculty, staff, and students may check out DVDs; the loan period is seven days. From this guide you can see our current titles and link to the catalog record to see if the DVD is available or checked out.  You can also browse the collection in person in the study area directly outside the Law Library's Reading Room.
Do you have a suggestion for the collection? Contact Nina Scholtz, Digital Resources Librarian.