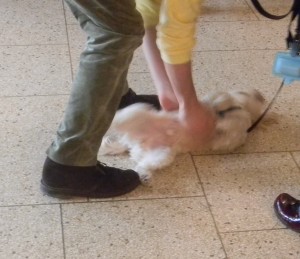 As our readers know, at exam time each semester we offer a pet visitation event.  Our pet guests come to us courtesy of Cornell Companions, a pet visitation service sponsored by Cornell's College of Veterinary Medicine.  The Cornell Companions program operates on a volunteer basis at no charge to the facilities and institutions its pets visit.
Why does Cornell Companions offer this program at no charge?  To quote its Mission Statement:
"The purpose of Cornell Companions is to provide the therapeutic effects of animals with the people whom we visit. We strive to educate our volunteers on the beneficial effects of the human-animal bond, and to foster positive relationships between people and animals, and also between different groups of people."
You can read more about Cornell Companions, the human-animal bond, and the therapeutic effects of animals on the Cornell Companions website.  (The Vet School's Facebook page is a lot of fun, too.)
We thought you all would enjoy seeing some photos from our pet visitation event on April 29.  We had three guests, two dogs and a llama.  Thanks, Cornell Companions!