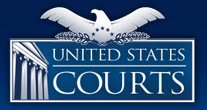 Following the recent revamping of the U.S. Supreme Court's extremely dated Web site, uscourts.gov just received a new, slicker interface.  The new changes are primarily cosmetic but welcome—the site now has a cleaner, more sophisticated look with larger, size-adjustable font.  The site is compatible with BrowseAloud, a free program that audibly reads Web sites for people who have trouble reading the text.  Other new editions include email updates and an RSS feed of news about the judicial branch of the federal government and videos (the Web site hosts some videos and has a YouTube channel).  Videos are directed toward a general audience and provide background information about the federal courts, working for the courts, and bankruptcy information, among other topics.
Uscourts.gov provides news and information about the federal courts, job openings, judges, forms and fees, rules and policies, and educational resources, for example:
The site also offers text and videos explaining bankruptcy and the bankruptcy process and resources for high school teachers including material for mock trials.