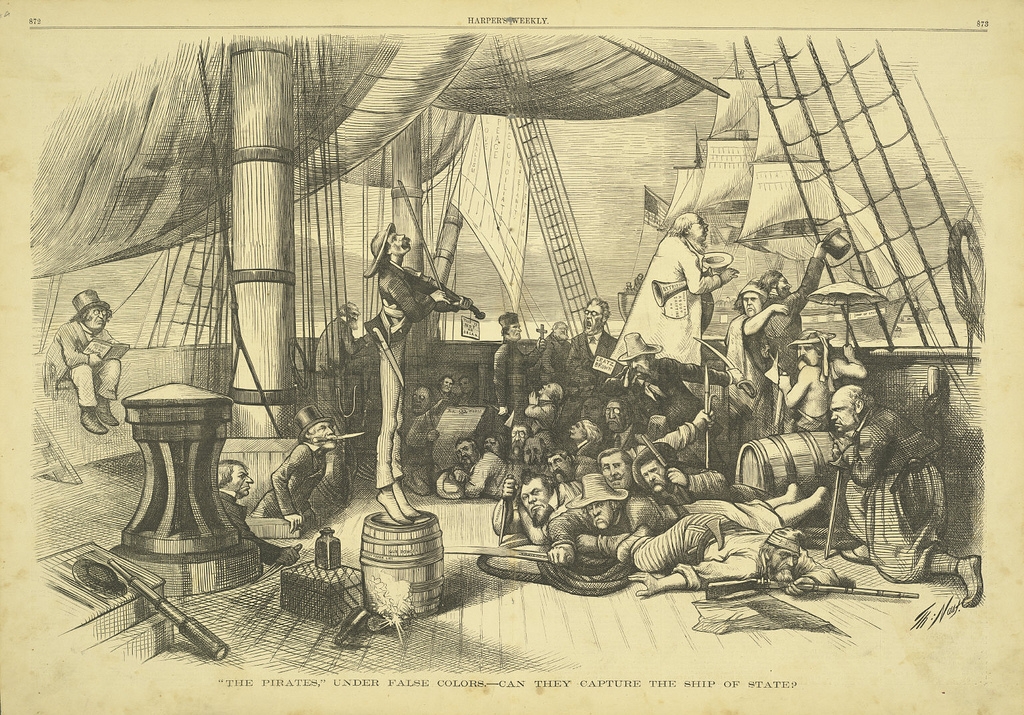 Piracy is funny when it involves parrots with risqué vocabularies, saying "Argggh" a lot, and Johnny Depp proudly debarking from his sinking jalopy of a raft.  Piracy is deadly serious when it is a form of terrorism in which routes of commerce are disrupted, people die, and a sea captain in Swiss Family Robinson makes his granddaughter dress like a boy to protect her from…well, I could never figure out from what when I was eight years old.  But something really, really bad.
In honor of International Talk Like a Pirate Day this coming Sunday (September 19th every year), here are some resources for learning about the not-so-funny legal aspects of piracy.
Digital libraries
Books
The Law of Piracy. Alfred P. Rubin. 2nd ed. Irvington-on-Hudson, New York: Transnational Publishers, Inc., 1998.  Law Library call number K5277 .R89 1998.  This book traces the development of piracy and piracy law in the Greco-Roman world, England, and the United States.
La Piraterie au Vingtième Siècle: Piraterie Maritime et Aérienne.  Corinne Touret.  Paris: Librairie Générale de Droit et de Jurisprudence, E.J.A., 1992.  Law Library call number K5277 .T68 1992.  This book takes an international law approach.
Patriot Pirates: The Privateer War for Freedom and Fortune in the American Revolution.  Robert H. Patton.  New York: Pantheon Books, 2008.  Olin Library call number E271. P27 2008.  Patriot Pirates describes of the history of American colonial privateers during the Revolutionary War (like Rhett Butler in Gone with the Wind, except in a different war), their motivations, and the questionable legality of their actions.
Articles (links to HeinOnline)
Web sites
Image: "The Pirates" Under False Colors-Can They Capture the Ship of State? from Cornell University Library's Collection of Political Americana, available on flickr.com.