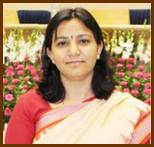 The Law Library is pleased to welcome Priya Rai, Deputy Librarian in Charge at the Justice T.P.S. Chawla Library, National Law University in Delhi, to Cornell Law School.
Ms. Rai's visit is made possible through the Bitner Research Fellows Fund.  This endowment is designed to provide foreign law librarians with exposure to Cornell Law Library's excellent resources and the expertise of its professional librarians, while learning about advanced legal research in a global context.
Ms. Rai will present at the faculty workshop on Wednesday, July 25, 12:00 Noon, in the Weiss Faculty Lounge.  Entitled "Access to Legal Information in the Digital Age: A Comparative Study of Electronic Commercial Databases and Public Domain Resource in Law," her presentation will include the results of her research involving law students and faculty from leading law schools in India. In addition to comparing open access and commercial legal databases, she will discuss initiatives to promote access to legal information to all Indian citizens.
Ms. Rai is the 2012 recipient of the FCIL-SIS Schaffer Grant.   This grant provides financial assistance for a foreign law librarian to attend the American Association of Law Libraries Annual Meeting, which she will do immediately prior to visiting Cornell.