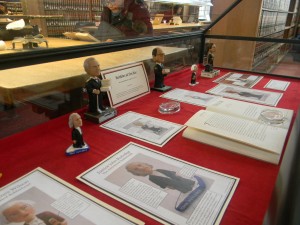 If you're wondering why we have a bunch of bobbleheads displayed in the Reading Room take a closer look.
These aren't just random figurines collected from minor league baseball games, they're unique (and rare) representations of Supreme Court Justices.
The creation of Professor Ross Davies of George Mason Law and Editor in Chief of The Green Bag: An Entertaining Journal of Law, the bobbleheads have become well known for their light-hearted representations of the personalities and passions of the members of the Supreme Court.
Featured by CBS News, CNN, The New York Times and Politico among others, Law Library owns one of the largest collections of the bobbleheads and is currently exhibiting them this semester.
Whether its Justice John Paul Stevens sporting a golf club to represent his majority opinion in PGA Tour, Inc. v. Martin, 532 U.S. 661 (2001) or Justice Souter wearing a gold chain to symbolize his role in Campbell v. Acuff-Rose Music, 510 U.S. 569 (1994) (a.k.a the 2 Live Crew fair use case) all the bobbleheads and the unique stories behind them are currently on display in the Gould Reading Room.
Check back over the next few weeks as we'll be taking a closer look at some at some of the unique and entertaining features of some of the individual justices.