With retired Justice John Paul Stevens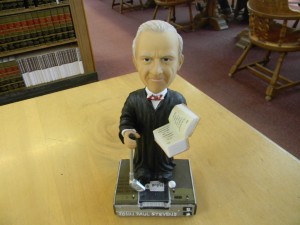 in the news recently it seemed to appropriate to highlight his Green Bag Bobblehead, currently on display in the Gould Reading Room.
Stevens was the second justice to be bestowed with a bobblehead in 2004. As with all of the representations, the figurine features several unique traits commemorating his personality and jurisprudence. A detailed explanation of all of the features for Justice Stevens can be found here. 
Two of the more notable features include Stevens holding a golf club to represent his majority opinion in PGA Tour, Inc. v. Martin, 532 U.S. 661 (2001) and he also stands on a Betamax video player to represent his opinion in Sony Corp. v. Universal City Studios, 464 U.S. 417 (1984), which included a detailed discussion of the famed children's television program Mister Rogers Neighborhood.
Check back over the next few weeks as we'll be taking a closer look at some of the other bobbleheads on display in the Reading Room.