New voices in legal information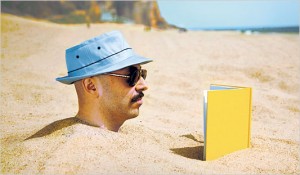 Maybe it's a bit late for a summer reading list, or maybe you're just now starting to pack for your vacation, deep in a Goodreads list that you don't ever expect to dig your way out of. Well, let us add to your troubles with a handful of books your editors are currently enjoying.
Non-Fiction
Clearing in the forest : law, life, and mind, by Steven L. Winter. A 2001 cognitive science argument for studying and developing law. Perhaps a little heavy for poolside, one of your editors finds it perfect for multi-day midwestern summer rainstorms, alons with a pot of tea. Review by Lawrence Solan in the Brooklyn Law Review, as part of a symposium.
Digital Disconnect: How Capitalism is Turning the Internet Against Democracy, by Robert W. McChesney.
"In Digital Disconnect, Robert McChesney offers a groundbreaking critique of the Internet, urging us to reclaim the democratizing potential of the digital revolution while we still can."
This is currently playing on my work commute.
The Cognitive Style of Power Point: Pitching Out Corrupts Within, by Edward Tufte. Worth re-reading every so often, especially heading into conference/teaching seasons.
Delete: The Virtue of Forgetting in a Digital Age, by VoxPopuLII contributor Viktor Mayer-Schonberger. Winner of the 2010 Marshall McLuhan Award for Outstanding Book in Media ecology, Media Ecology Association; Winner of the 2010 Don K. Price Award for Best Book in Science and Technology Politics, Section on Science, Technology, and Environmental Politics (STEP) by the American Political Science Association. Review at the Times Higher Education.
Piracy: The Intellectual Property Wars from Gutenberg to Gates, by Adrian Johns (2010). A historian's view of Intellectual Property — or, this has all happened before. Reviews at the Washington Post and the Electronic Frontier Foundation. From the latter, "Radio arose in the shadow of a patent thicket, became the province of tinkers, and posed a puzzle for a government worried that "experimenters" would ruin things by mis-adjusting their sets and flooding the ether with howling oscillation. Many will immediately recognize the parallels to modern controversies about iPhone "jailbreaking," user innovation, and the future of the Internet."
The Master Switch: The Rise and Fall of Information Empires, by Tim Wu (2010). A history of communications technologies, and the cyclical (or not) trends of their openness, and a theory on the fate of the Internet. Nice reviews on Ars Tecnica and The Guardian.
Too Big to Know: Rethinking Knowledge Now That the Facts Aren't the Facts, Experts Are Everywhere, and the Smartest Person in the Room Is the Room, by David Weinberger (author of the Cluetrain Manifesto). For more, check out this excerpt by Weinberger in The Atlantic and
You are not so smart, by David McRaney. Examines the myth of being intelligent — a very refreshing read for the summer. A review of the book can be found at Brainpickings, which by the way is an excellent blog and definitely worth a look.
On a rainy day you can always check out the BBC series "QI" with a new take on what we think we know but don't know. Hosted by Stephen Fry. Comedians share their intelligence with witty humour and you will learn a thing or two along the way. The TV show has also led to a few books, e.g. Qi: the Book of General Ignorance (Q1), by John Lloyd
Fiction
Sparing the cheesy beach reads, here's a fiction set that you may find interesting.
The Ware Tetralogy: Ware #1-4 , by Rudy Rucker (currently $6.99 for the four-pack)
Rucker's four Ware novels–Software (1982), Wetware (1988), Freeware (1997), and Realware (2000)–form an extraordinary cyberweird future history with the heft of an epic fantasy novel and the speed of a quantum processor. Still exuberantly fresh despite their age, they primarily follow two characters (and their descendants): Cobb Anderson, who instigated the first robot revolution and is offered immortality by his grateful "children," and stoner Sta-Hi Mooney, who (against his impaired better judgment) becomes an important figure in robot-human relations. Over several generations, humans, robots, and society evolve, but even weird drugs and the wisdom gathered from interstellar signals won't stop them from making the same old mistakes in new ways. Rucker is both witty and serious as he combines hard science and sociology with unrelentingly sharp observations of all self-replicating beings. — Publisher's Weekly
Happy reading! We'll return mid-August with a feature on AT4AM.
–editors
VoxPopuLII is edited by Judith Pratt. Editors-in-Chief are Stephanie Davidson and Christine Kirchberger, to whom queries should be directed.