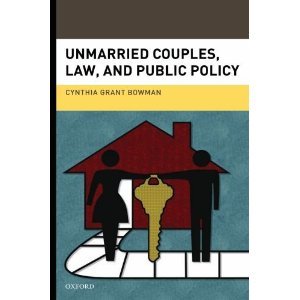 In honor of Cornell Law School Professor Cynthia Grant Bowman's new book, Unmarried Couples, Law, and Public Policy, today we are highlighting a few of her other publications. In addition to a degree in law, Professor Bowman earned a Ph.D in political science, and she brings an interdisciplinary approach to her analysis of topics such as family law and feminist jurisprudence.
Professor Bowman studied the relationship between law and cohabitation–and especially its impact on low-income women–for many years before writing this book:
For more of Professor Bowman's writings, see her faculty publications page and the Scholarship@Cornell Law online repository.