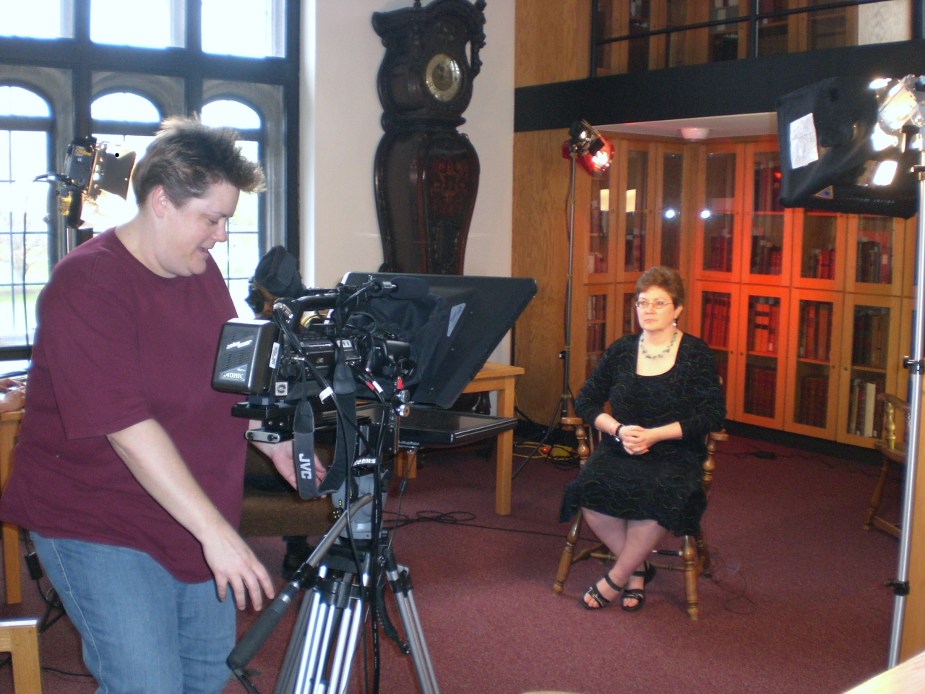 For several hours one recent afternoon, Cornell Law Library's Dawson Rare Book Room was transformed into a mini-film studio, complete with bright lights, microphones, and a teleprompter.  It was the culmination of nearly six months of work by a group of Law Library staff and Cornell's CyberTower video production team to produce a video featuring our collection of "Wild Bill" Donovan's Nuremberg papers.
The Law Library acquired the Nuremberg papers of General William Donovan in 1998 through the generous donation of alumni Henry Korn and Ellen Schaum Korn.  Donovan's role as director of the U.S. Office of Strategic Services (precursor to the CIA) and special assistant to the chief U.S. prosecutor at Nuremberg, Justice Robert H. Jackson, gave him a rare insider's perspective on the Nazi war crimes trials.  With the financial assistance of the Nathaniel Lapkin Foundation, the Library has been able to index and digitize some of the unique and historically significant portions of the collection and make them freely available online.
When the Library was approached about the possibility of creating a short video to promote one of our special collections, we decided we wanted to highlight the Donovan papers for a number of reasons, one of which is the collection's continuing relevance decades after the Nuremberg trials took place.  The impact of the Donovan collection has extended in completely unexpected ways beyond its importance as an historical artifact.
The Law Library team used research that had already been conducted on the collection as a basis for the video script, particularly the work of Professor Michael Salter of Lancashire Law School.  We also drew upon the experience of Rochester attorney Donald Rehkopf, who used the collection while preparing an amicus curiae brief in Hamdan v. Rumsfeld.
To add visual interest to the video, we searched the Internet for vintage newsreel footage and photographs that would complement the script.  We also pored through the Donovan papers themselves to identify documents of particular interest to highlight.  We even listened to CD tracks of somber music that would underscore the solemn theme of the story we wanted to tell.
On the day of the video shoot, the CyberTower production team arrived at the Law Library and set up their equipment in the Rare Book Room. Our principal narrator had a touch of laryngitis that day, so two other law librarians were recruited on the spot to read parts of the script.
As is the case with most movies, a portion of the footage we recorded ended up on the (digital) cutting room floor.  Some of the edited material was restored in the final version, and we are quite pleased with the result.  We extend our thanks to the CyberTower production team for their professional expertise in helping us bring our vision to reality.  You can view "'Wild Bill' Donovan's Nuremberg Legacy" at http://cybertower.cornell.edu/lodetails.cfm?id=801.