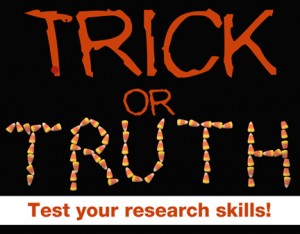 October is Information Literacy Awareness Month! Cornell students are warmly invited to show off your sleuthing skills for a chance to win a $25 iTunes gift card. The contest is open to all students. Check out Facebook for a CLUE that will help you answer the question below!
Rulloff's Restaurant in Collegetown is named after an infamous 19th century Ithaca resident, Edward Rulloff, who was convicted and hanged for murder in 1871. Was he guilty or innocent?
• Find credible historical evidence to prove or disprove the 19th-century crimes of which Rulloff was accused.
• Provide a 150-word synopsis of your findings, with one credible citation to verify your research, and enter to win a chance at a $25 iTunes gift card.
• (Hint: The back of the restaurant menu does not qualify as a credible source.)
Make your submission at trickortruth by November 7th to be entered in the iTunes gift card drawing.
Good luck—and Happy Halloween!