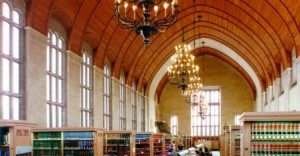 To our new students, faculty, and staff–welcome!  And to those returning, welcome back!
We were pleased to meet the incoming LL.M. students at their orientation this week.  We're now looking forward to meeting the new J.D. students at our Open House on Tuesday.
The library has seen some changes over the summer.  The blog's name has changed: We're now InfoBrief.  Two of our research librarians, Pat Court and Jean Callihan, retired at the beginning of the summer, and a new librarian, Dan Blackaby, joined us in mid-July as the Technology Services Librarian.  A new scanner in the Reading Room makes saving book and journal pages and other documents easier.  Soft seating will soon be installed in alcove 4 of the Reading Room, and the Eating Area has new furniture too.
The Reading Room windows offer a great view of the construction in progress in the courtyard.  And a new exhibit, also in the Reading Room, includes pictures of previous law school buildings and construction projects.  (Our website also has information about our building and its history.)
And finally, Cornell University has been named a top 5 outdoor university by the magazine Outside, a reminder to enjoy our beautiful setting in Ithaca and the Finger Lakes region.