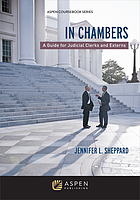 We've just acquired a new book that should be of interest to many of our students.  In Chambers: A Guide for Judicial Clerks and Externs by Jennifer L. Sheppard, Associate Professor of Law, Mercer University, is now available on reserve in the Law Library Reading Room (ask at the circulation desk during normal library hours). 
Professor Sheppard offers guidance on everything from attire to court organization and process to drafting an opinion. A sample bench memorandum is included, as are chapters on standards of review and drafting jury instructions.
Students looking ahead to obtaining a clerkship will also find the book useful, as it includes a chapter explaining the application process as well as sample resumes and cover letters.
While this book may be used only in the Reading Room, other books on this topic are available for checkout. Search our library catalog for the subject heading "law clerks United States".  We also have Law Clerk Handbook: A Handbook for Law Clerks to Federal Judges, edited by Sylvan A. Sobel, available online through HeinOnline.
Cornell law students interested in speaking with a reference librarian about legal research for an upcoming externship or clerkship may request a research consultation at the circulation desk.