"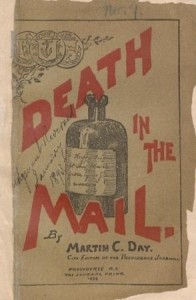 The False Prophet!" shrieks one cover.  "Confession of Ann Walters, the Murderess!" proclaims another.  "Death in the Mail" is the lurid title of a third.
These are all pamphlets digitized in the Cornell University Law Library Trial Pamphlets Collection, which has just received the American Association of Law Libraries' Law Library Publications Award, Nonprint Division.
We call them trial pamphlets because most are contemporary accounts of trials of prominent citizens or that dealt with especially controversial or lurid topics.  Some are confessions; some include "execution sermons" (in which readers were given a moral lecture).  As the titles quoted suggest, they were sold to a public eager to learn the juicy details of a recent murder or other crime.
For present day scholars, the pamphlets offer not only valuable evidence, such as trial transcripts, frequently not available elsewhere, but also indications of the political, economic, and social transformation of the United States, especially in the 19th century.
The trial pamphlets are freely available for full-text searching or browsing on the Trial Pamphlets Collection site.  Law Library staff responsible for the project are Thomas Mills, Associate Director for Collections and Administration and Rare Book Curator, and Janet Gillespie, Access Services Manager.  Barbara Berger Eden, Cornell University Library's Director of Preservation, and the entire project staff made the digital collection possible.