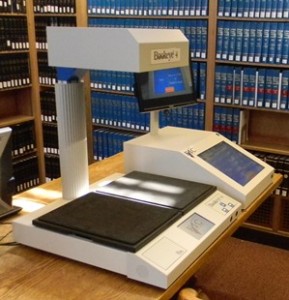 We have a new scanner for library users installed in the Reading Room.  The Bookeye 4 has a book cradle, which means you no longer have to place the book face down on the scanner, scan the page, pick up your book, turn the book, and place the book down again.  All you have to do is turn the page and scan!
It will scan materials up to 24.4 by 16.9 inches (620 x 430 mm) in resolutions up to 600 by 400 dpi.  You can choose to create JPEG, TIFF, or PDF files, and choose whether to e-mail the file or save it to your flash drive.  And, of course, your scans can be black and white or color.
You can learn more about the scanner model here.  For help using the scanner, check out the video tutorial available on the scanner's screen, or ask at the Circulation Desk or Reference Desk.