Ithaca brings us the world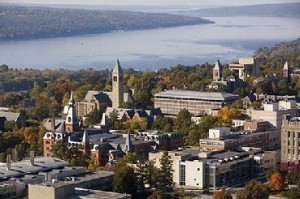 As an institute within the Cornell Law School, the LII team is surrounded by students and faculty who are immersed in the study of law; as a part of Cornell University, we have access to some of the greatest minds in the study of just about everything else.
Perhaps best of all is the vibrant community of Ithaca, New York, which houses Cornell, as well as Ithaca College, and is home to thousands of young people looking to make a difference. These factors provide us with opportunities to leverage this knowledge and enthusiasm into research that directly impacts our mission, and we take advantage of this in several ways.
For example, we're fortunate to host visiting scholars from other institutions who do work in information science, open access, and legal information. This summer we welcomed Jonathan Germann from the Law Librarianship program at the University of Washington, who worked on various things related to ALJ opinions and the CFR. Stevan Gostojic joined us from the University of Novi Sad (in Serbia). He worked on a Semantic Web ontology/project related to statutes and bylaws. In a few weeks, we'll be joined by Juhani Korja from the University of Lapland, who is working on research having to do with privacy law as it applies to biometric data (think facial recognition, fingerprints, DNA, etc.).
During the academic year, we mentor and lead workshops for students from the Cornell University Departments of Computer and Information Science. Each semester, several Masters of Engineering students take an independent study course directed by our semantic web researcher and developer, Mohammad AL Asswad. Last year's project led to an award from Google. LII associate director Sara Frug leads another group of students in a software development practicum. And the LII also offers undergraduate work study jobs in system administration and software development.
Our administrative team employs several students from Cornell Law School's LLM program to help with basic data entry and other marketing and fundraising tasks and research. Some of these students also assist LII associate director Craig Newton in content development, specifically in translating Wex pages into their native languages.
And of course, there's the LII Supreme Court Bulletin, which provides thirty Cornell Law School students with the opportunity to hone their writing and research skills by providing written previews of upcoming Supreme Court cases for 30,000 subscribers.
New this year, we launched a full-summer internship in non-profit communications and management with help from the Park School of Communications at Ithaca College. Senior Tom Dempsey worked on advertising, fundraising, and communications projects that will give him marketable skills when he graduates next June. A part-time internship will be available throughout the coming academic year.
As a matter of principle, we think it's important to pay our students and interns for their contributions to the LII, so we spend more than $100,000 per year to reward their hard work and support their academic expenses. These funds come from users and donors like you who make financial contributions to the LII. If you'd like more information on internships, or would like to sponsor a visiting fellow, please let us know. Or, you can make a donation here.