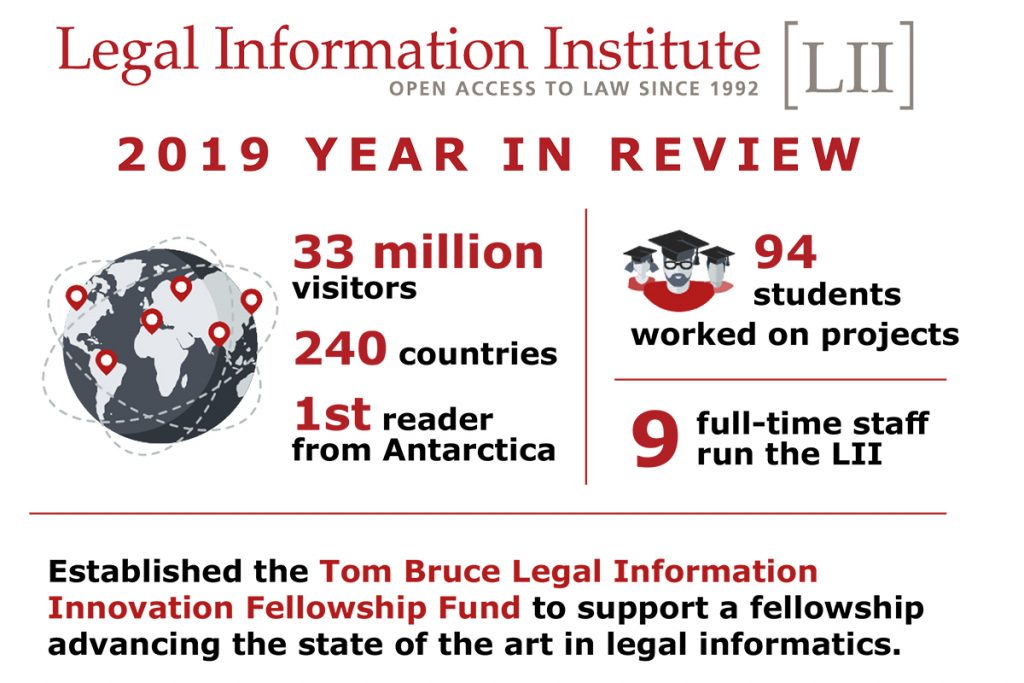 The Legal Information Institute at Cornell Law School enjoyed a very successful year in 2019. Here are some numbers that tell the story of our success and some context from the many folks who use and support our work:
33,000,347 people used our website and viewed 151,553,871 pages of content, including:
– 53,885,373 pages of the CFR, which let them run their businesses, do their jobs, or just live their lives like the recent donor who told us: "I use the Code of Federal Regulations to ensure I am meeting the regulatory requirements when performing engineering functions."
– 49,866,781 pages of the US Code in order to help themselves and their clients, like the former nonprofit and governmental attorney who told us that "at both jobs, our legal department budgets were limited and we had limited access to commercial legal research tools."
– 12,162,296 pages of various federal rules, used primarily by lawyers, litigants, and law students, like the one who recently left us a note saying, "Thanks for getting me through evidence class!"
– 11,509,034 pages of Wex, where they found plain-language, viewpoint-neutral explanations of legal issues and concepts such as this visitor who left us a comment saying she thinks "it is very important for people to have easy access to a website that explains the law in layman's terms…."
– 5,907,626 pages of the United States Constitution; because, as one donor put it, "Too many people rely on news reports that reference the Constitution and statutes, but they don't read the full text."
– 4,613,666 pages of Supreme Court opinions and Bulletin Previews, which was the destination of a professor who told us, "I am a Constitutional Law professor and I'm constantly researching case law. LII is one of many resources I look to for accurate information."
1,581,297 views of the Annotated Constitution in its first full year since we re-launched it on Constitution Day, 2018. In November, we received a note from an admirer who told us, "I have found the Legal Information Institute to be a very useful research tool. I frequently access the LII Constitution Annotated for detailed and reliable information."
132,000 dollars went into the Tom Bruce Legal Information Innovation Fellowship Fund. Once it reaches $400,000, that endowed fund will pay for a Fellow to spend the summer in Ithaca each year advancing the state of the art in legal informatics and related fields.

240 countries and territories sent us visitors in 2019, such as an attorney in Mexico who wrote to tell us of his admiration for the Constitution, or a PhD student in China who used our website to write his dissertation on bankruptcy laws. During our campaign, we also heard from a Court-watcher in the UK, a Canadian who tells us our website has resources her local library lacks, and even a Hungarian who simply said, "I like what you do."
94 students from law, information science, and computer science helped us on a variety of projects in 2019. All were either paid for their work or received course credit.
27 years was the length of time LII Co-Founder Tom Bruce was at the controls. He retired on July 1, 2019 after fourteen years as the LII's solo Director. Longtime LII employees Sara Frug and Craig Newton now serve as Co-Directors, returning the LII back to its original leadership structure of one technologist and one lawyer.
9 full-time staff run the LII.
1 communications specialist
1 mission. Same as always.
Those are just some of the numbers that are on our minds–and some thoughts about what they mean to the people who use our site each day–that we wanted to share with you before 2020 gets too far down the road.
As always, in the coming months we'll be periodically sending you updates about what we're working on, the interesting folks we're working with, and anything else we think you might appreciate. We're looking forward to our best year yet at LII, and we're grateful to have you along for the ride.
Craig & Sara