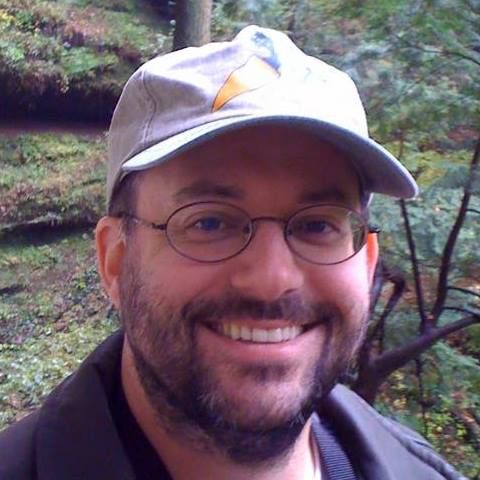 The LII relies on financial support from individuals to fund a substantial portion of its applied research and publication. We try to follow up with everyone to find out why they gave, and for constructive feedback on our work. Every so often, one of those responses leads to a longer conversation. John Reed, Manager of Procurement and Compliance at Food Gatherers, a food bank and food rescue organization serving Washtenaw County, Michigan, relies on the LII for quick and easy review of operational regulations. When he showed his gratitude by making a donation in December, he mentioned who he worked for, and we couldn't resist asking him a few questions.
Could you tell us a little bit about Food Gatherers and who it serves?
Food Gatherers is the food bank and food rescue organization serving Washtenaw County, Michigan.  Started in 1988, we were the first food rescue in Michigan and also the first hunger relief organization in the nation to be founded by a for-profit business, Zingerman's Deli.  We've received Charity Navigator's 4-star rating for twelve consecutive years, placing us in their top 1% of all rated charities nationwide.
In addition to providing simple hunger relief, we strive to connect the dots between hunger and health by providing healthy food options for our neighbors in need.  Nearly 40% of all the food we distribute is fresh produce, and we have met Feeding America's Foods to Encourage metric with 71% of our distributed food so far this fiscal year.
We work with a network of about 150 non-profit distribution programs across Washtenaw County, including soup kitchens, emergency pantries, meal assistance for seniors and children in need, and organizations whose primary function isn't hunger relief but who also provide food and can use help with their food budgets in order to focus their own resources on their missions (e.g., substance abuse recovery programs, shelters and programs for homeless or at-risk youth, free health clinics)
What is your role in the organization?
My title is Manager of Procurement and Compliance, which includes specifically:
purchasing food to supplement the donations that come in (food donor relations are handled by someone else) so that we have a consistent mix of healthy food options for our network to access

purchase supplies and equipment needed for operations

manage written programs and training activities related to operational regulatory compliance (e.g., FDA, DOT, OSHA, etc.) – I'm not responsible for compliance with financial regulations (e.g., IRS)

act as the point of contact for operational regulatory inspections and audits

manage the maintenance of our facility and the leasing of our fleet of 7 refrigerated trucks

manage the relationship with our IT services provider
Also, since I have the second-longest tenure on Food Gatherers' staff at 14 years (and because I have a tendency to stick my nose in everyone's business anyway), I sit on multiple interdepartmental committees to help provide historical context and high-level views of emerging and ongoing issues.
How did you get into procurement and compliance?
I have worn many different hats at Food Gatherers over the years: driver, warehouse assistant, inventory control, operations manager.  My current role was designed to fill gaps in other staff roles that match my skills.  I tend to be a bit of a "utility player". My skills and knowledge have been mostly self-taught and on-the-job.
It must take a lot of hands to move 6.4 million pounds of food each year. What kinds of partners does Food Gatherers work with, and how do you evaluate and manage the supply chain?
Indeed, our operation has a lot of moving parts.  We receive food from dozens of retail donors (supermarkets, etc.) on daily pickup routes, hundreds of food drives throughout the year, thousands of individual walk-in gifts, a dozen or so purchasing vendors, and the USDA via The Emergency Food Assistance Program (TEFAP).  We also receive food as a benefit of our membership in the Food Bank Council of Michigan and Feeding America, the national network of food banks.  Once received, each donated item is inspected here in our warehouse for quality and food safety by staff or trained volunteers.
Our staff then combines the food resources described above (donated, purchased, and USDA) to fulfill the distribution needs of our individual partner agencies – relying on a combination of push-and-pull strategies: agencies can choose some items themselves (pull), and we fill out the rest from whatever we have on-hand (push).  Many agencies receive free delivery service by our paid staff, while smaller partners usually come to our warehouse to pick up their orders.
Our staffing needs are met with 30 full-time paid employees and more than 7,000 volunteers annually (individuals, families, corporate groups, church/school/civic groups, etc.).
What are the biggest legal and regulatory compliance challenges facing Food Gatherers?
Food Safety probably presents the greatest challenge to our work.  While internal policies and procedures work fairly well to meet most regulations, keeping food safe relies heavily on forces beyond our immediate control – food donors handling food appropriately before we pick it up; partner agencies handling it correctly once they receive it from us.  We work continuously to proactively manage and document our safe food handling practices and to provide training and feedback to our donors and agencies to make sure the food resources ultimately making it into the hands of our needy neighbors are safe and wholesome.
Do you have any specific, interesting compliance situations that you've anticipated or resolved?
There tends to be a misconception in the community that since we are a food bank, food safety regulations don't apply to us.  Of course, the truth is that we are held to the same standards as any food business and in many cases even stricter regulations than most because the people we serve are considered "vulnerable populations" within the FDA regulations.
How has the Legal Information Institute (LII) helped you do your job?
The information at the LII tends to be more easily searchable and navigable than other sources of the same information, so it saves me time in researching any particular topic.
You made a donation to the LII. Could you tell us why?
Working for a non-profit myself, I recognize the need to financially support those institutions I value.  It was just a small gift amount, but I see myself being a regular supporter in the future as long as I continue to find value in what the LII has to offer.
At the LII, we believe that everyone should be able to read and understand the laws that govern them, without cost. That's fairly analogous to the belief at Food Gatherers that "in a land of plenty, no one should go hungry." Food Gatherers exists to alleviate hunger and its causes in Washtenaw County; what could the LII learn from that example to alleviate ignorance of legal information and its causes?
I'm not familiar with everything that the LII does (so maybe you already do some of these things), but off the top of my head, here are a few ideas:
Encourage rule-making bodies to use language that leans toward plain-English whenever possible

Provide resources to explain the differences between, key characteristics of, and interactions between the various primary sources of law

Develop portals for specific industries to help newbies learn all the stuff they didn't know they didn't know about their business – e.g., when I first started tackling regulatory compliance here at the food bank, I had no idea that having big lead-acid batteries in our forklifts could require registration and regular reporting to government agencies; I still occasionally run into smaller food banks or pantries who have no idea that their truck drivers are likely subject to DOT regulations
Food Gatherers uses a carrot in its logo because "it's nutritious, practical and has deep roots." What would you say could be the LII's equivalence of a carrot?
Perhaps an open book?