Look what you made possible!
We can never say it enough: thank you. Your contributions help millions of others to find and understand the law. More than that, they are a powerful vote of confidence in the LII's mission, and in the strategies we use to provide an objective source of legal information to more than 30 million people each year. One purpose of this letter — and it's a long one, to be sure — is to show you just how many things you have to be proud of. Your contributions support a stunning variety of activities that help millions of people.
Your support does much more than simply providing "more free law stuff" to the world. To be sure, we reach remarkable numbers of people in remarkable places.  Those 30 million people come from more than 240 countries and territories in addition to the US.   India is home to the largest foreign audience, at well over half a million.   Nearly 200,000 of our users prefer to browse the web in Chinese. 15,000 are in Iran.  3 reached out to us from Christmas Island, one of the most isolated spots on the globe. Because of your help, our work reaches everywhere on the planet.
Your donations increase the range and quality of the objective legal commentary that we offer.  On that front, this year's biggest news is our new edition of the United States Constitution Annotated (CONAN), a comprehensive explanation of the United States Constitution and of the key Supreme Court cases that interpret it.  The base text is a scrupulously objective commentary written by the Congressional Research Service for the benefit of the Congress and its staffers.  We've made it better, adding navigation, search, and links to the Supreme Court opinions.  The result is an accessible, usable, and objective guide to some of the key issues before us as a nation. You can read more about this project here.
CONAN and our Federal law collections serve around 13-15% of the adult population of the US. But your contributions also help particular groups of people who are at risk. The editors of our Women & Justice collection work with our law firm partners White & Case and Gibson, Dunn & Crutcher to provide free online access to global gender justice jurisprudence, legislation, and reports representing 116 countries, three regional human rights organizations, and international criminal tribunals and treaty monitoring bodies.  The information is used by advocates and judges around the world who are dealing with issues of domestic violence, acid attacks, sexual violence in conflict zones, and other aspects of justice for women.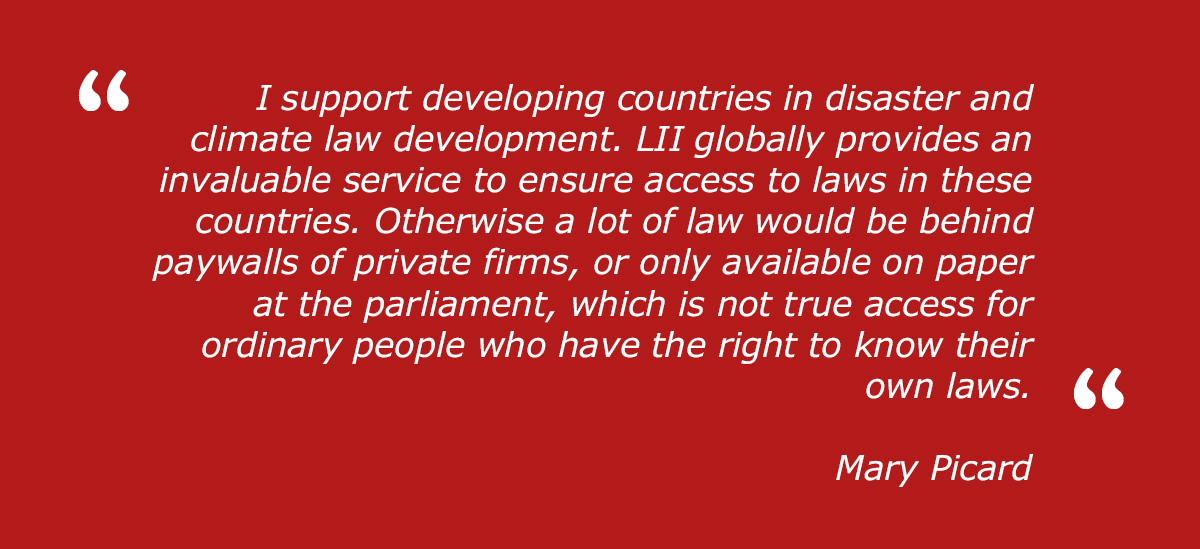 But people also come to the LII for a lot of things that simply help them understand and anticipate all the important but far less dramatic ways in which the law can affect their business, their livelihoods, and their families. In January and early February last year, we saw a huge spike of interest in 15 USC 206, Standard Gauge for Sheet and Plate Iron and Steel.  The reason?  Announcements about tariff changes on imported metal products, which affect thousands of businesses and those who work for them.   We could name a hundred more pages on our site that get that kind of attention when people want to know how the actions of government are going to affect them.  No single one is dramatic  — but all of them together inform hundreds of thousands of people — people that you have helped to understand how the law is likely to affect them. Others take notice of the work that your donations make possible.  Whenever there is a hot-button issue in the public eye that requires an understanding of the laws that govern us, you will see media outlets linking back to the LII. The recent topic of birthright citizenship is a prime example, as a wide spectrum of publications linked to our pages, including The New York Times, CNN, Fox News, The Washington Post, USA Today, Politico, NBC News and The Atlantic.
It's a little hard to find a big collection of dry legal text entertaining, but the LII reaches into popular culture, too.   Our work has appeared on the Colbert Show, in murder mysteries on television and in print, as an important part of an episode of "This American Life", and (quite recently) in a Jeopardy question about the Supreme Court.  And audio recordings of Supreme Court oral arguments, taken from the LII's Oyez site, are an important part of "Roe", Lisa Loomer's play about Roe v Wade.  "Roe" has been presented at the Oregon Shakespeare Festival, the Berkeley Rep, and the Arena Stage in Washington, DC.  Last month, a playwright pal of ours ran into Lisa Loomer's agent at a conference, and learned that Roe will be produced in Minneapolis this year, and has been optioned for production on Broadway.  You won't see "LII" in lights, but audiences will see an LII credit in the program.

For the last few years, we've had a hard time filling vacancies in our engineering staff.  Ithaca has always had a small startup culture, but in recent years it's grown, and become a significant competitor for the kind of advanced technical talent that makes our work possible.  This year, we were extremely lucky to hire two very talented individuals.  Ayham Boucher came to us from the Ag-Analytics project at the College of Agriculture and Life Sciences. Ag-Analytics.org is a web application that integrates geographical, weather, and precision agriculture data collected by farm equipment; it used big data and predictive analytics techniques to help farmers assess different possible crop insurance strategies.  Jim Phillips came to us from the Gleason Corporation in Rochester, where he has worked for over 20 years, starting as a Controls Engineer and most recently working as a Software Engineer in Research and Development. Like Ayham, Jim is a full-stack developer with experience working "close to the metal" on hardware projects. He is also highly curious and a tinkerer. At Gleason, he worked on some of the company's first web applications. A qualified paramedic, he's also certified as a cave scuba diver and wrote software to mix his gases — an extreme exercise in trusting your own work as a developer.
We also realized we need more help in better communicating our work and mission to the world so Neli Karabelova joined us as our new engagement specialist. Neli came to us after working as a marketing professional for Miller Mayer, LLP, an international law firm with a heavy emphasis on immigration law. She led a successful full rebranding campaign for them among others, and if you've ever tried to get two lawyers to agree on something, you'd understand what an accomplishment that is. Neli has also been a photographer for over 10 years and will use her creative eye and love for visuals to give you colorful relief from our penchant for big blocks of text.
If you'd like a refresher on what our full team looks like, head over to our staff page.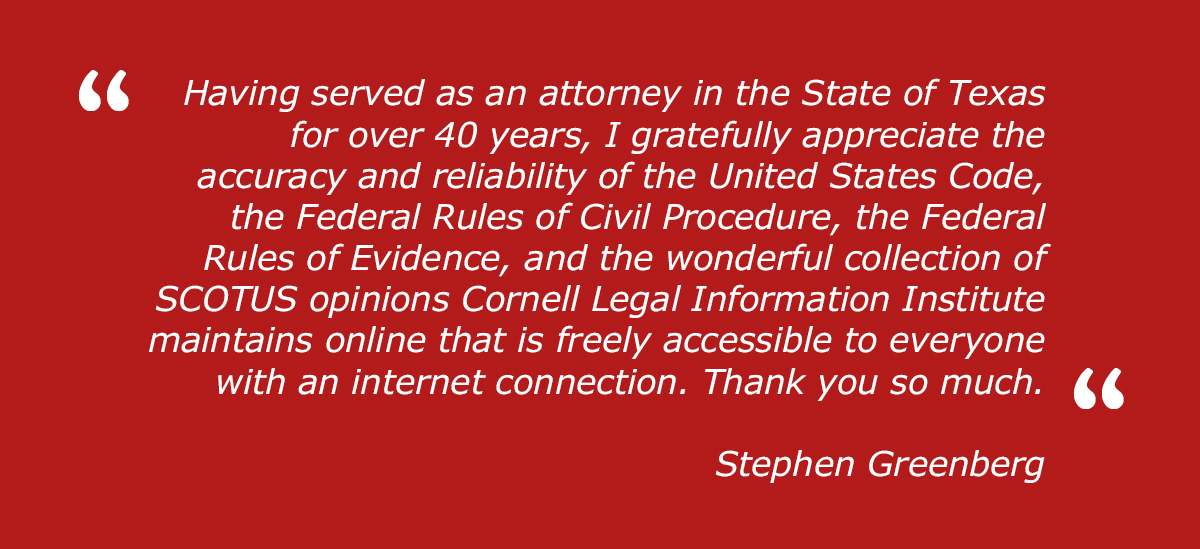 When you think about it, though, it's amazing — nine people in Ithaca, NY serving the needs of 30 million around the globe.  And your contributions make it all possible.
The LII is a small band of experts — Val, Neli, Ayham, Jim, Nic, Sylvia, Sara, Craig, and me.  Over the years, we've transmitted that expertise to people in state and Federal government, to international bodies like the UN and the Hague Conference on Private International Law, and to more than 25 operations like ours serving people around the globe.  We've testified to Congressional committees and advised operations on five continents.  With your help, we've built new technologies and taken new editorial approaches to make the law easier to find and understand. Your contributions have helped hundreds of thousands of advocates to help millions and millions of people to understand and solve problems that affect their lives in important ways.  That is huge.
Let me just close by saying one more thank-you.  Your contributions support an incredible range of work on behalf of millions of people worldwide.  We are very, very grateful for your past support, and are looking forward to the future.
All the best from all of us,
Tom, Sara, Craig, Neli, Val, Ayham, Jim, Nic, and Sylvia