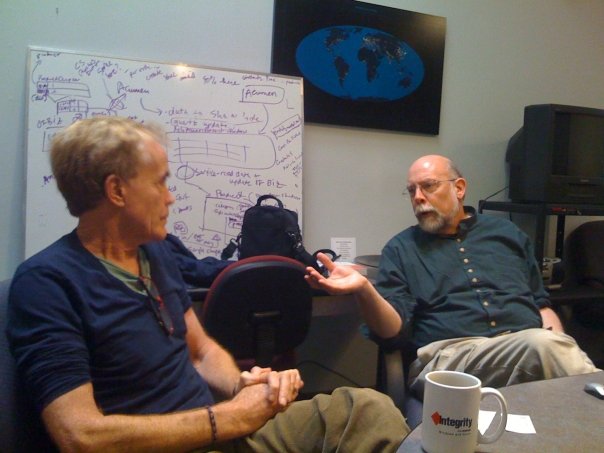 We've been playing on the same team for years, but we'd never actually met.  Yesterday, LII-ers Tom Bruce, Deborah Schaaf, and Dan Nagy met with Jake Warner and the Nolo team at their headquarters in Berkeley (or Ithaca West, as we prefer to think of it).  We had a great time meeting everybody.
Both groups are dedicated to the idea that non-lawyers can and should understand law, and both have been pursuing that goal for years.  Surprising that we'd never actually met before now, but mutual friend Tim Stanley of Justia was kind enough to perform the introductions. We think there is a lot that we'll be able to do together in the future– stay tuned.
Our first planned joint activity was to have been a competition to see whose building has the more confusing layout, but the LII has decided to concede the title to Nolo's extremely cool old clock factory.
(Jake and Tom may look dedicated and intense in the photo, but actually they were talking about sports.  Tim posted more photos here.)