Meet our donors: Kristin Knudsen
When did you first become interested the law?
I was totally uninterested in law as a possible vocation until I took the LSAT on a dare.  My first exposure to any aspect of law was my first job out of high school – typing autopsies for the coroner's bureau.
Where did you go to college and what did you study there? Degrees?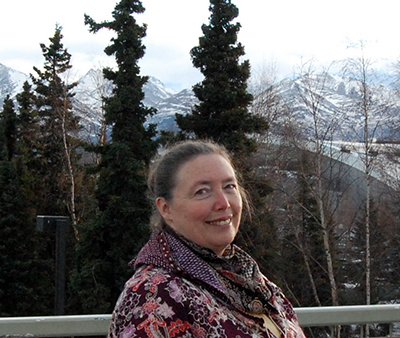 I graduated from the University of California Los Angeles with a BA in History, with quarters at Riverside and Berkeley.  I wanted to study urban planning (living in southern California was a perfect illustration of the need for urban planning), and, until I took the LSAT, I never thought of going to law school.  A friend's dare (and offer to pay for the test) is what started my career – I did well enough that I thought, "Why not?"
I was accepted at several schools, but ended up at Santa Clara University because the school offered me a place in the dorms free for a few weeks, found me a part-time job, and I found cheap housing in biking distance.  How cheap? $40/month for a derelict store front in San Jose. Of course, we weren't supposed to be living there.  We made our own shower, kitchen table, a sleeping loft; it is still a shock to remember being so poor – no car, no furniture, no suitcase – and so oblivious to what being a lawyer means.  I graduated (J.D.) in 1978.
In 2010, I went back to school full time at the University of Nevada Reno, where I did a Masters in Judicial Studies, a joint program with the National Judicial College.  I survived my research and thesis to be awarded the degree in December 2012.
Tell us about your work experience. What led you to where you are now?  
I came to Alaska right out of law school, inspired by my folks' tales of their time up here (my widowed mom returned to Bethel, Alaska when I was in college).  I still didn't have a car, so I shipped all my belongings (seven boxes, mostly books) to Anchorage, packed a backpack and sleeping bag, and joined 3 other young people in a tiny Mazda driving to Alaska.  I spent three days in at Denali (Mt. McKinley National Park) on the way. The sun shone, the mountain was fully visible, and I've been an Alaskan ever since.  Alaska was still in the Pipeline Boom and it was pretty wild.  Bars opened at 6 am and closed at 5 am.  I printed up a resume and just went knocking on doors.  I got a job as a law clerk in my first week in Anchorage with a great labor law firm. From there I went to the Alaska Department of Labor, the Attorney General's Office for seventeen years, and ultimately, as an administrative law judge, the chair of the Workers' Compensation Appeals Commission.
While I was finishing my Master's thesis in my basement, I started teaching as an adjunct at University of Alaska Anchorage and I loved it.  When a full-time position came available, I applied and I've been teaching full time since August 2012.
In your current position, describe what you do and how you use the LII?  
I teach in the Legal Studies program of the Justice Center at the University of Alaska Anchorage; UAA offers an ABA-accredited BA in Legal Studies, an AAS in Legal Studies, a minor, and 2 post-baccalaureate certificates.  I teach Legal Research, Analysis & Writing and Civil Procedure. I also teach Health Law, alternating with Torts, and do my own research.  Most of my students are upper division undergrads.  Alaska doesn't have a law school.  So it is important that we have a program to train the mid-level legal workers – the legal technicians, regulation coordinators, legal researchers – who take the places that people with a year of law school would take outside Alaska.  If our students go to law school, they'll be thoroughly prepared and do well.
I want my students thinking about law as something they participate in – all the time and everywhere – and as something they can understand and argue about intelligently.  The first day in class, I introduce them to WEX because it is accessible 24/7 by their tablet, smart phone, or laptop and it is written for NON-lawyers.  It is a way to make their huge vocabulary learning task possible.  I encourage them to "look it up" even in class.  I also use the LII to introduce them to legal argument and appellate opinions.  For this, LII's Supreme Court previews are invaluable.  My CivPro class argues a Rule 12 motion before a local judge, on a question pending before the Supreme Court.  They did Walden v. Fiore last semester and the LII preview is where they started.  This semester they are doing Northwest, Inc. v. Ginsberg.
What parts of the LII do you use the most?  
I use the LII Supreme Court Bulletin – but my students probably use WEX most!
Are there features of the LII site that you find superior to other resources of the same information? 
First, the site content is written to non-lawyers in a lively, engaging, but correct style. It is not overtly politically slanted and it is comprehensive.  With so many legal sites out there with an agenda or selectivity, it is great to be able to present one that is objective and thorough as a source for my students.  I want them to be engaged by law, and that is not done by talking down to them or by obscure blather.  Second, it is free and reliable.  They do not pay a fee nor do they have to sift through ads and politics to reach content.  The site is never down, nor are there dead links (so frustrating!).  So kudos to your techs – keeping the site clean is very helpful.
You recently made a gift to support the LII's work. Can you tell us why you gave so generously? 
How could I not?  I live in an area without much information infrastructure.  In some ways, we live very intimately with the visible symbols of the law – holding court in village school gyms, for example.  Alaska doesn't have a law school, a great, historical law library, or all the other established resources that the legal communities outside Alaska have.  A site like Cornell LII gives my students a connection to the workings of the law at the very highest level, as long as they can find an internet connection.  When they understand the arguments being made (we listen to Supreme Court audio streams), they know they and the lawyers here are part of the larger legal community and they can be participants in it – they too can stand up and argue a point of law.  It builds their confidence like nothing else.  More importantly, as I tell them, they have become translators or interpreters of legal events/thinking/speech for their communities and families.  They have a responsibility to share their understanding.  Many of them come from small communities and immigrant families; by acting as "law translators," they build communal respect for law and the legal process in Alaska.
If you by chance encountered another LII user at a meeting or event, what would you say to convince that user to become a financial supporter?  
Stop thinking about just being a lawyer among lawyers.  Think about all the people in your region.  They can't all afford your time, even if you had time to give, to show them how to engage in important civic legal debates or what some decision they heard about means.  They'll get some one or two sentence line from a news assembler or TV program.  As lawyers, we should not be barriers to the public's understanding of the courts.  Some of them will be voting on these issues and supporting politicians who will be voting on them.  What do you want their information baseline to be? some lobbying group or TV show?  Or do you want them learning that law can be a considered, deliberative process, with nuance and history?  Law – not just codes and statutes, but the ideas of law — shouldn't be screened or reduced to sound bites for the electorate or sifted into entertainment for the masses.  The law should be transparent and open to view to everyone, rich and poor.  LII makes it so.