New Supreme Court Bulletin Student Leadership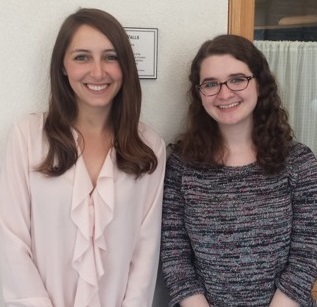 We recently selected new leadership for our Supreme Court Bulletin Previews.  Jenna Howarth is the new Editor in Chief, and the new Executive Editor is Nicole Greenstein.   
Jenna graduated magna cum laude from Boston College in 2014 with a degree in English and a minor in Economics.  While an undergraduate, she interned at a Boston courthouse, the Supreme Judicial Court of Massachusetts' Justice Initiative, and a Boston law firm.  After her first year at Cornell Law School, she spent the summer working in the Child Protection Unit of the Suffolk County District Attorney's Office.  Add to that the time she spent at a publishing company, and it's easy to see the intellect, experience, and passion she brings to the Supreme Court Bulletin.  
Jenna is excited to lead the Bulletin during the Court's 2016-17 term.  She says, "I have really enjoyed the work I have done for the Bulletin this past year, and I am so grateful for the opportunity to be able to contribute even more in this new role going forward. We have already begun implementing some of our new ideas for the Bulletin and have selected a very strong Editorial Board and associate class to create more great previews next year."
Nicole is a self-professed "grammar geek" who graduated summa cum laude from the University of Pennsylvania in 2014 with degrees in English and Political Science.  With minors in both Journalism and Consumer Psychology, she spent two summers working at TIME Magazine.  During those stints, she saw her reporting featured as the #1 "Most Popular" story on TIME Politics and #3 on TIME.com.  Reporting on politically charged issues such as the 2012 elections, US foreign relations, and revelations about the National Security Agency, Nicole decided that law school was the next step for her.  
Nicole balances her interest in politics with the Bulletin's decidedly apolitical editorial policies.  She says, "I have always admired LII's mission to inform the public about important legal issues in an accessible manner. It is an honor to be a part of such a wonderful organization, and I look forward to another great year for the Bulletin."
Traditionally, the EIC is responsible for setting and enforcing standards and deadlines, as well as training and overseeing the work of the Managing Editors who work directly with the Bulletin's Associates to create each Preview.  The EE manages the Bulletin's relationship with the Federal Lawyer magazine and works with LII volunteer Frank Wagner to ensure the pieces we send to the Federal Bar Association for their publication have an additional layer of polish.