LII Alumni Profile: Bill Gameros 96′, Partner at Hoge & Gameros, L.L.P.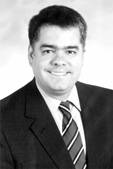 For over 20 years the LII has been one of only two universities that are able to publish an official electronic version of the Supreme Court's decision within minutes after its release. In 1995, these opinions had to manually be converted to HTML. Behind the tedious task was Bill Gameros, law student with a military background, who became the LII Bulletin's first Editor-in-Chief. Formed by Professor Peter Martin, the bulletin provides a complete synopsis and analysis of Supreme Court rulings written by law students and emailed to subscribers within five days of the court's decision. For this Alumni profile we talk to Bill about his formative years, and the foundation of the bulletin.
Could you please briefly describe your first career as an army officer?
I graduated from West Point in 1987 as an Armor Officer. Armor Officer means I would be in charge of tanks and scouts. So for my time as a junior officer, I went from a second lieutenant to a captain. During the 1990-91 Gulf War, I was a scout platoon leader for Fourth Battalion 64th Armor, then part of the 24th Infantry Division. Probably the most interesting part of my time as a junior officer, was arriving in Saudi Arabia in August of 1990. There was no infrastructure for us. Literally our first nights there we were in a cement factory. We then go out in the middle of the desert in Saudi Arabia and set up camp and wait for the next 4 or 5 months. We spent those months training and getting ready for the war that looked more inevitable as time went on. We went into Iraq one night, two weeks before the ground war "officially" started; we never came back. My unit spent all of our time in Iraq. We came back after that in March. I got out of the Army in August 1992, next stop Ithaca, NY.
Why did you decide Ithaca and to go to Law school after the Army?
I was looking for a joint J.D./M.B.A.When I was in the Army, my next door neighbor was a Cornell Law grad. He told me I should go and look at Cornell. Because if I go and look, I'm going to like it and that's where I'm going to want to go. He was exactly right. I toured all the other campuses that I looked at, and it just came down to Cornell's small size and I really liked everything I saw there.
Where are you from originally?
I grew up in Brunswick, Maine.
Did you struggle at all with adjusting to Cornell after the Army?
No, not really. I enlisted in the Army when I was 17. I was enlisted for a year at the West Point prep school and then went to West Point. Honestly, my step dad was a Naval Officer, and I didn't know what civilians did. I came to Cornell with the idea that if I didn't like what civilians did, I was going to go back in the Army. However, I liked what civilians did.  I even met my wife at Cornell Law School, so it was a good deal all around. Staying was easy.
How did your legal education compare to being at West Point?
They are night and day different. At the bottom or the core at West Point is something called the "approved solution." There is a right answer, every time, period, no matter what. One of the things that was different about the law school is there are sometimes many answers. Some are better than others but there's not that absolute "there is a right answer." Part of that may be a distinction of the law school as inherently a Liberal Arts style education, where West Point is an engineering program, so it comes from a different educational basis.
How did the Bulletin come about?
I was working with Professor Martin with New York Court of Appeals. I was working with him converting that to HTML manually, that's how we did it at the time. This was way back in the dark ages of the internet. We had a thing called an FTP site, I don't even know if they use it anymore, but it stands for File Transfer Protocol. We used FTP site to get the opinions, and then we'd convert them into HTML and publish them. So from that, I had already been doing the conversion work and it was his idea that we should go ahead and figure out some way to provide some sort of enhanced content that related to the first source material that we had from the New York Court of Appeals.
Originally the Bulletin was focused on the High Court for the State of New York. Why was that?
Again, it was because we had a really good data source. We would get copies of the Opinions the day they came out and Professor Martin would give them to me and then I would convert them to HTML. It was a collaborative process for designing what the format for LII Bulletin New York was after that.
Was there anything about working for the LII that made you a better Lawyer after graduation?
Yes, ultimately you have to be a good writer in a team setting. One of the things that it helps for is being able to work with other people. Because I do litigation I can't speak for the transactional folks, but on the litigation side, it did help with the process of working in teams to develop better written product. That is still something that you have to do at the law firms I work at even today.
What do you think of the Bulletin being switched to the US Supreme court and covering the entire docket?
It certainly is going to reach a broader audience. I used to joke that there is no such thing as a Supreme court case that would affect my practice and that hasn't been true. Actually, a couple of them have. The most important one is an obscure case called Stern v. Marshall. It affected adversary proceedings in bankruptcy court. But I think there's a general interest not just among lawyers but among nonlawyers as well as to what goes on at the U.S Supreme Court. Contrasted with the Court of Appeals in New York, I think a lot of people are surprised, they don't expect that to be the highest court in New York. When they hear the trial court called the Supreme Court they think New York's upside down I guess. But I think in terms of reaching a broader audience it makes a lot of sense to go with the US Supreme Court.
Why do you think people should support the LII?
I think the LII provides a unique and good public service. In terms of getting the content fast and free, it's really hard to beat.
Stay tuned next month for our interview with Kathy Gameros, our second ever Editor in Chief, who just so happens to be Bill's wife…
*The Bulletin first started with about 1,000 subscribers. Today, we have over 15,000 and counting. Not a subscriber? Stay informed with us!