One to Watch: Janet Odetsi Twum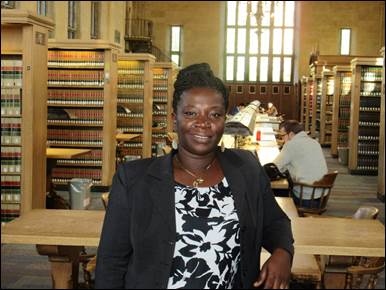 Janet Odetsi-Twum, whom we met during her recent Bitner Fellowship at the Cornell Law Library, is a librarian to watch.  Educated in her native Ghana, she speaks six languages (English, French, Ga, Twi, Krobo and Ewe). Prior to her career as a librarian, she worked in a wide variety of settings and jobs.  She has taught in rural Ghana, serving as a classroom teacher as well as a teacher of English and Ga.  This gave her experience "improvis[ing] learning materials" in low resource environments.   She also worked on projects for young women living with HIV/AIDS.  
Odetsi-Twum's interest in libraries began at an early age.  Growing up with a love of books and reading, she had a natural affinity for librarianship.  "I erroneously [thought] working in the library could afford me more books to read," she says.
She has worked in a wide variety of libraries — children's libraries, school libraries, academic libraries.  Children's libraries, she says, are "full of action, creativity, and teaching", and allowed her to build skills in working with computers and digital scholarship which she later brought to an academic setting.  At the time, internet resources for children's libraries were not yet developed, so she worked with CD-ROMs — which, she points out, had their benefits: they involved "a one time payment, unlike with online legal resources where subscription is annual and expensive".
Odetsi-Twum's specific interest in working in legal libraries began from the ground up, when she started one.  A decade ago, when the school in which she was working as a librarian was accredited to teach law, she set up a law library from scratch.  
Having gained wide experience at so many types of libraries, Odetsi-Twum sought the Bitner Fellowship in order to gain experience in a library outside of Ghana. Law Library Director Femi Cadmus was quick to point out the benefit to the librarians here as well: "Cornell Law Librarians were excited to host Janet Odetsi-Twum in October.  Janet is an enthusiastic and resourceful librarian who  powers on undeterred by some of the challenges faced by her law library. She is an excellent communicator and was able to provide staff of our library with a very insightful overview of the workings of the Ghana legal system and the administration of law libraries in Ghana."
While she continues to work as the head librarian at the Ghana School of Law, Odetsi-Twum is also currently working on an LL.B.  (In Ghana, she explains, while a law degree is helpful for a law librarian, it is not as common as it is for employees of American law school libraries.)  Even her Bitner fellowship caused her to miss a few weeks of classes — "I [had] to catch up with lessons and reading assignments for two weeks," she says, admitting that it was "taxing".  She notes that every class begins from the ground up: unlike library work, "the semester ends you have nothing to do with the course again".
When starting the Ghana School of Law Library, one resource she relied upon was the LII, and she remarks on the coincidence of getting a chance to be at Cornell Law School in person. Of particular interest to us is Odetsi-Twum's work putting Ghanaian legal information online. She sees pressing issues in open access and online presentation of legal materials: "currently the need to get government agencies as a key stakeholder in the provision of legal data generated is very important. Also the issues with copyright with regards to other companies who may be making profit out of the case law that government generate." Her experience as a Bitner fellow has helped shape her project:  "I have learnt to focus on what is within my reach and with time I will get all others to join in the provision of legal resources online. As a first step, I intend to harvest and organize the scattered bits of pertinent legal data put online by other organizations in Ghana." We can't wait to see what she does next.