Alumni Profile: Kathy Gameros 97', Lawyer at Atwood Gameros, L.L.P.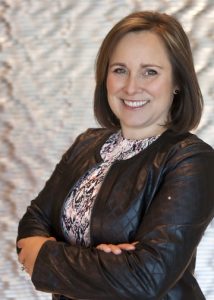 If you're asking yourself why the last name Gameros sounds familiar it might be because you're thinking of Bill Gameros. Bill was featured in last month's Alumni Profile for his work with the LII Bulletin. The West Point grad and former Army Officer was the first editor in chief of the Supreme Court Bulletin.  Fortuitously, his successor was Kathryn Becker; an art enthusiast with a passion for helping others who today goes by Kathryn Gameros. The two met while attending Cornell and later married. Kathy served as an editor on the first ever editorial board and became the first female editor-in-chief the following year. For the sake of curiosity we couldn't interview one without the other, so we talked with Kathy about the Bulletin and how she utilizes her career to make a difference.
You attended the Harley School in Rochester, NY?
I grew up in Fairport, NY and graduated from the Harley School.
After attending the Harley School, you went to college to study Fine Arts?
I went to Middlebury College and received a degree in Studio Art and Women's Studies.
So how did you transition to Law School?
While I was in undergrad, I decided that I wanted to try and make a difference. I thought that law made the most sense with the background I had with women's studies. I didn't exactly what I was going to do, I was lucky to attend a liberal arts school and I also changed my major a few times as an undergrad.
What made you choose Cornell?
I visited law schools on the West Coast and also on the East Coast before I fell in love with Cornell. I may have to admit it could've been something to do with visiting on negligence weekend and I have always loved upstate NY. I liked the size of the school and I thought it was a good fit given I was coming from a small undergraduate institution.
What is negligence weekend and what about it specifically played a role in you choosing Cornell?
When I was visiting campus and later when I attended Cornell Law School, one spring weekend was designated Negligence Weekend. Many law students took time away from studying to lounge, play games & even enjoy a beer outside. The weekend that I visited campus, the weather was absolutely lovely. It was a warm sunny respite after a long winter in Middlebury, Vermont. All the law students that I met were friendly and seemed so relaxed. Obviously, not every weekend in law school was like that. There were notes to write and edit, classes to prepare for, moot court and other time pressures. Negligence weekend provided a counterpoint to those busy weekends.  
You were an editor with Bill, and then the following year became Editor in Chief. Did you make any changes or notice any changes that you wanted to make the second year around?
At that point I think we had worked together pretty well as a team. All of us on the journal collaborated to establish the format for the bulletin. We were still focused on the Court of Appeals in New York and I had taken over doing the HTML preparation of the Opinions as they came down and then we would make a selection. We worked on our selection criteria for which cases we were writing about. We did not analyze every single case that came out during those years. We continued to evolve but we did not make any wholesale changes that second year.
Based on wanting to make a difference, did that influence your career path after Cornell?
I ended up taking a more traditional career path after I graduating. I worked at three law firms since 1997. In 2013, my partner and I opened our own law firm. Over the course of my career , I was able to use my legal education on pro bono matters as well as serving on a number of nonprofit boards. When my partner and I left Jones Day, we were able to represent students and their families in the area of education law. Special education law is a growing portion of our practice. The majority of my practice  remains product liability defense. It took a while to get there but I am committed to taking on social issues as a lawyer.
Do you use the LII during your work day?
I do! Not every day but I tend to use it when I want to see Supreme Court opinions. I looked at the write up on the Endrew F. v. Douglas County School District decision. That actually fits right into the area of Special Education Law that we've been working on.
Could you elaborate on some of the nonprofit boards that you serve on? I know that you were involved with the Leadership Arts Institute and also the Texas Discovery Gardens.
Leadership Arts Dallas was a training program that I was invited to participate in because I was a lawyer. The purpose of that group is to prepare professionals to get involved with nonprofit boards of directors. As a result of Leadership Arts, I was placed on the board of the Texas Discovery Gardens where I currently serve as the Parliamentarian. Texas Discovery Gardens is an organic garden with educational programs for both children and adults. It's in the heart of Dallas and uses sustainable practices including native plants and Hasan indoor insectarium which is commonly referred to as the butterfly house. The Discovery Gardens also does work in the community. For example, when Dallas Mayor Mike Rawlings joined a group of other Mayors across the country in creating "way stops" for migrating monarch butterflies, he partnered with the Texas Discovery Gardens to create the Mayor's butterfly garden outside Dallas City Hall.
It has been a great organization for seeing what's going on in Dallas including people's changing ideas about using public spaces in Dallas in a way that is "water wise." And I've learned about monarchs and other species that are endangered or becoming endangered. Last year, I served as the Chair of PC TAG which is a non-profit that works with the school district that my children attend.  
I hear you have 3 daughters, how old?
Yes we have 3 girls. They are 13, 11, and 8.
Will any of them plan on attending Cornell or going into law?
You know they're not sure right now. Actually they're all involved with acting so maybe we'll be using those Tom Bruce connections. Over the years, we have run into people that know Tom all over. Last summer it was at the Edward Gorey House in Yarmouth Port, Massachusetts. Apparently Tom had done some theater in Boston related to Edward Gorey and we ran into people that told us that they knew Tom for his work. My girls got a kick out of it.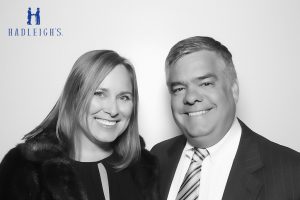 Kathy has been successfully managing her own firm, Atwood Gameros LLP, since 2013. In addition, Bill has been at Hoge & Gameros LLP since 2002. Bill and Kathy reside in Dallas where they moved post graduation. Together they live with their three daughters, 2 gerbils and dog.